Want a fast accurate diagram and map of your supply chain? How about automatic alerts for earthquakes, strikes, and floods?  
This project brings together two concepts:
Automatically draw a flow diagram and a map of a company's supply chain based on data stored in its corporate databases, and
Superimpose visual displays of alerts and other critical information on top of these images.
Examples of the kinds of critical information to be displayed includes:
Locations of your plants, suppliers, customers, and major transportation lanes
Alerts of Natural Disasters, Strikes and Protests, Infrastructure Failure, etc.
Heat Maps (frequency diagrams) of hurricanes, floods, earthquakes, etc.
Inventory Deployment ($ and Days of Supply) across the network
Capacity Constraints (bottlenecks) in the network
Risk Pathways (most vulnerable segments) across the network
Cost Accumulation across the network
Cycle Time Accumulation across the network, and
Market Share Impacts of major events
Later – Carbon Use Across the Network
Later – Water Use Across the Network
Until now, transportation and network analysts have needed to spend weeks collecting scattered information about suppliers, freight lanes, customers, and products in order to create a network flow diagram. And then it becomes out of date a few months later.
This project is developing the Hi-Viz software to automatically create two fundamental types of network displays as shown below:
1) left to right material flow diagram: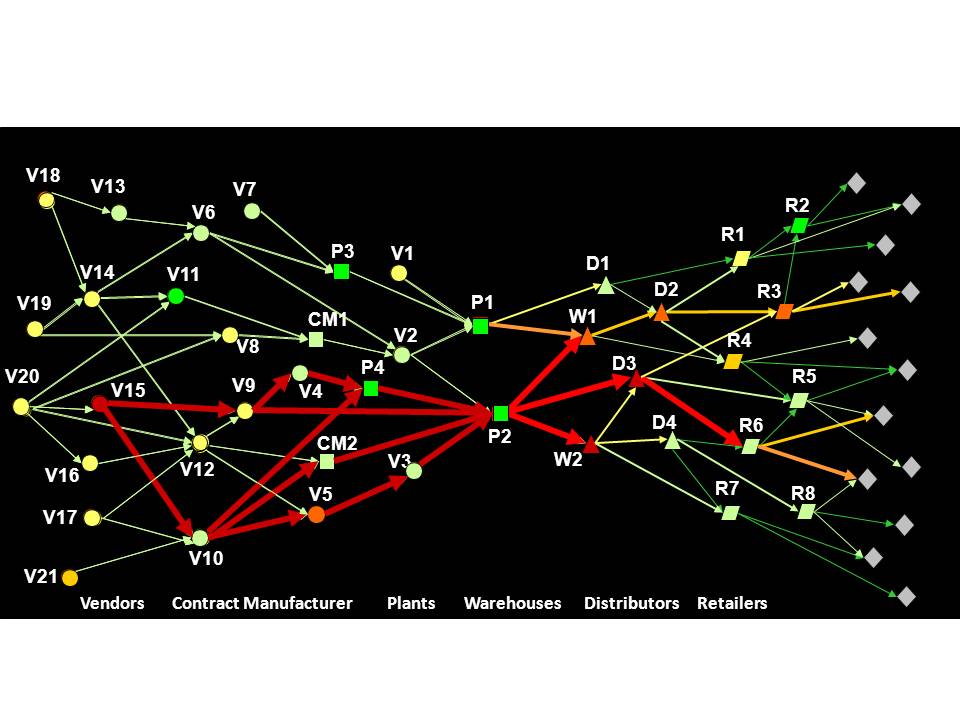 Hi-Viz Display: Left to Right Material Flow Diagram.
and 2) a network map: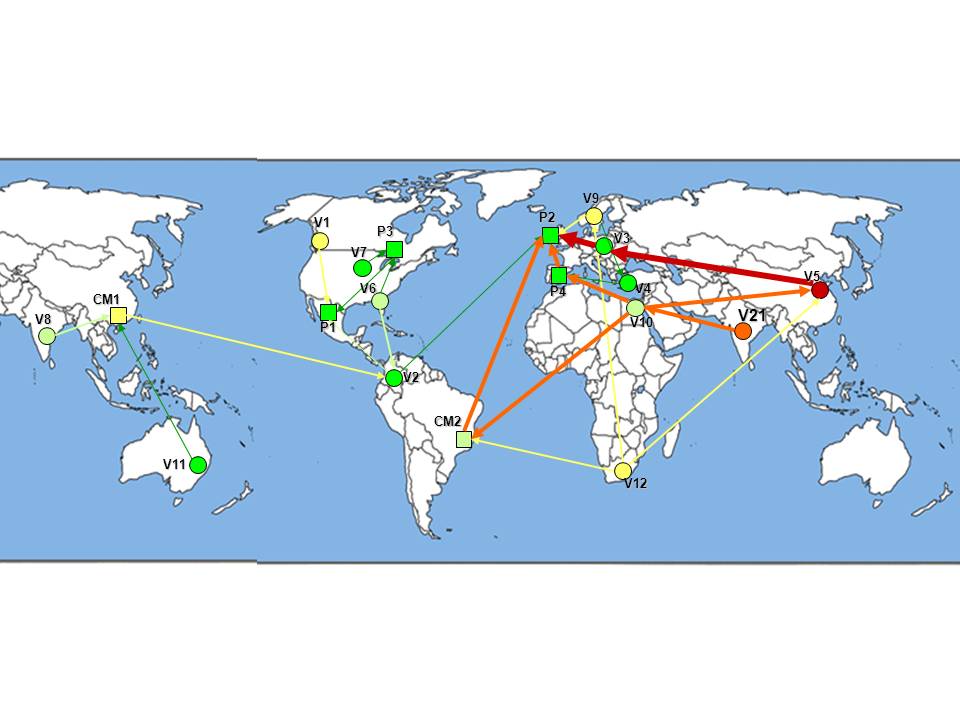 Hi-Viz Display: Network Map Display
The data needed to create these displays comes from a company's own ERP system and other corporate databases as well as from government agencies and news outlets.
The system schematic below depicts the sources and uses of data for the Hi-Viz Project: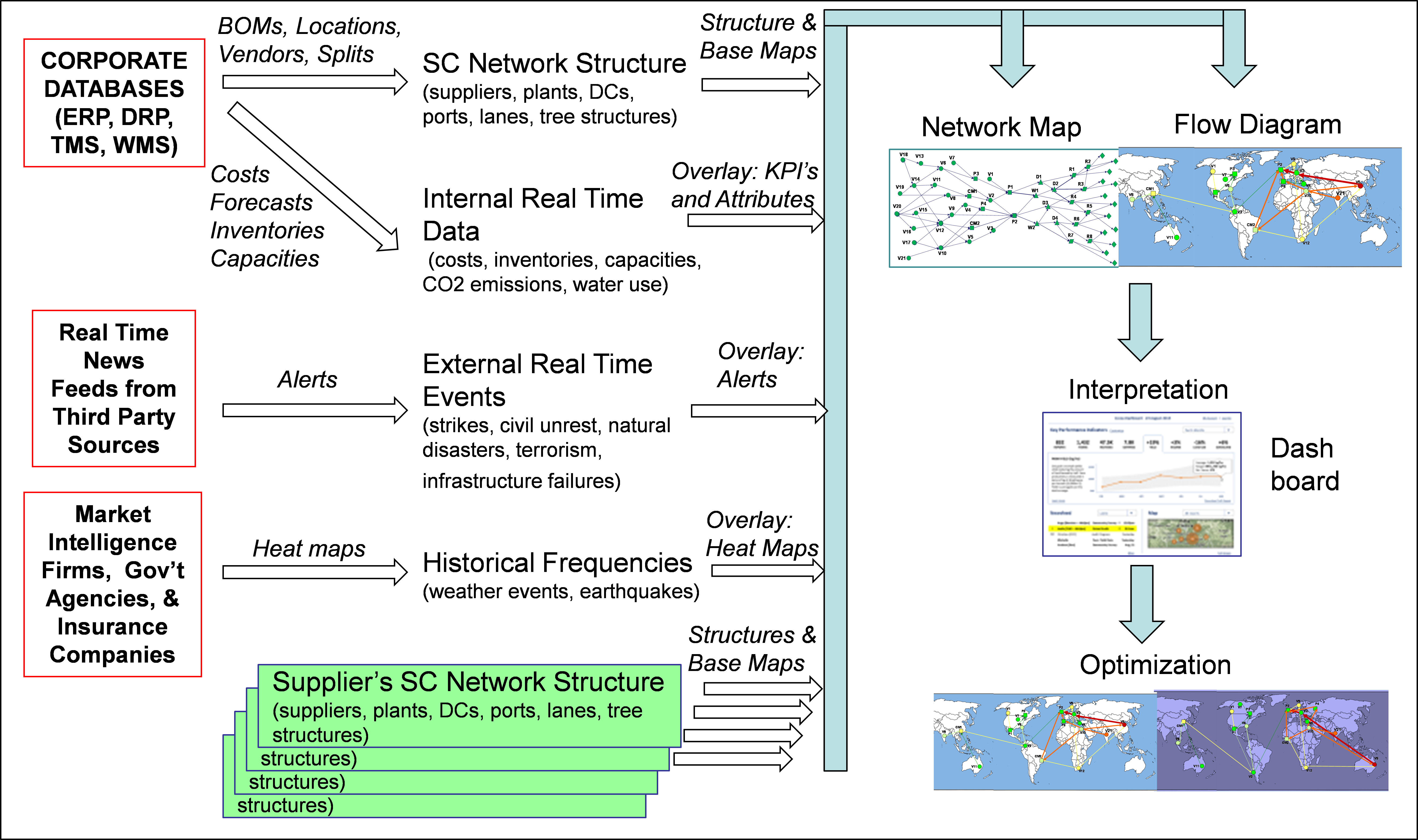 Data sources needed by the Hi-Viz Software.
Can my company participate?
The research project is organized as a consortium. Both MIT and the participating companies welcome other companies to join the effort. Sponsoring companies will share the funding and provide staffing for piloting the tool in their company.
The project is now in its third year and is now focusing on delivering a prototype software tool for use by corporate planners, finance, and risk managers.
Learn more about joining the Hi-Viz SC project by contacting:
Dr. Bruce Arntzen
barntzen@mit.edu
617-252-6965